Classify raw LiDAR point clouds of railway environment. Classified point clouds will help you to extract and exploit all the precious information of your data.
With our software, each object gets assigned to a category to allow an extensive and accurate analysis of detection, inspection and inventory.

We provide an algorithm that is capable of processing sections individually to obtain a global view of the network.
Our solution is fully automated, reliable and fast to meet the needs of predictive and corrective maintenance.
Our software handles several point cloud formats such as LAS, LAZ, e57,... It is usable through different platforms or via our API.
Classified 3D LiDAR point cloud from a French railway
This algorithm combines artificial intelligence and professional knowledge to accurately recognize rails, track axis, contact cables, and their positions in 3D space.
The vectorized rails are exported as 3D polylines placed on the top of the rail head to study the geometry and the evolution of rails and contact cables.

This enables the automation of measurements as slope, tilt, spacing, radius of curvature, track axis shape, …

The vectorized components can be used in a Geographic Information System (GIS) or a Building Information Model (BIM) software.
To cater to the demands of both predictive and corrective maintenance, our solution is prompt, dependable, and completely automated.
Our software handles several point cloud formats such as LAS, LAZ, e57 and DXF or SHP for the polylines.
Our solution can be utilized either through various platforms or by integrating with our API.
We provide an algorithm that is capable of processing point clouds of a whole network thanks to distributed computing : hundreds or thousands of km is not a problem.
Therefore, it offers the opportunity to prevent maintenance and optimize scheduled interventions.
Our solution is completely automated, dependable, and swift to meet the requirements of predictive and corrective maintenance.
Precisely analyze the condition of the railway infrastructure thanks to automated calculations of slope, curvature, mid-chord offset and superelevation.
The algorithm performs automated calculations to retrieve the horizontal and vertical curvature definitions : track geometry in both the
horizontal plane
and the
longitudinal vertical plane
. The geometric elements, namely
tangents, curves and spirals.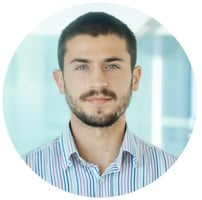 By combining the professional expertise of setec, and the technical skills of

, we have worked on an algorithm studying railway gauges, and identifying automatically the obstacles to the circulation. Through the launch of the platform Setec Capture, all companies are encouraged to invent new services based on the automation of tasks involving visual data.